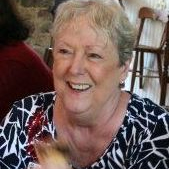 Patsy
Advanced Lung Cancer Survivor
Patsy continues to be one of Friend For Life's most active volunteers, despite many of her "matches" having died. When asked how she does it, Patsy states that the "more pain I have in my own life, the more I need to reach out to others". She enjoys being a role model--her matches actually get to see and speak with a real life advanced lung cancer survivor--and at the same time, Patsy gets to meet the most extraordinary people.
Patsy has a wonderful sense of humor and she describes how she coped with her original cancer diagnosis.
Christmas 1997 was at our home and we did not tell any of the family about my cancer yet. Anticipation, anxiety, sadness, etc. made me not sure how I could "hostess". Two days before, my Christmas present came from a close friend since childhood. She is a very cerebral and always sends me something very nice, like a C.S. Lewis book. I opened the box and there were two big yellow Tweety Bird house slippers. She did not know about the cancer and I fell down laughing that she, of all people, had done something so silly. The end of the story is I wore them on Christmas with a black cocktail dress. How could I not laugh at myself?
If you are a cancer survivor and would like to become a trained volunteer with Friend for Life, please read more information about becoming a volunteer or contact us.